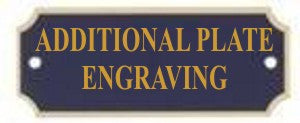 Individual Name Plates - Engraving Only
Individual Name Plate 1" x 2.5"
Includes Engraving only up to 3 lines.
When purchasing a perpetual plaque choose this option for each individual name plate you would like to have engraved.


Customers that currently have a perpetual plaque displayed in their ward building and would like to have the plates engraved, mail individual name plates to us by securing them with painters/masking tape onto a piece of cardboard to ensure that they are not scratched. If plates arrived scratched, we will notify you and you will have the option to purchase a replacement if desired.
GoLDS Plaques
PO Box 30554
Mesa, AZ 85275