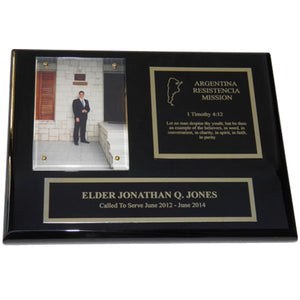 Black Piano Finish Missionary Plaque - Gold Trim
Regular price $64.00 Sale
7" x 9" Black Piano Finish Missionary Plaque with Gold Trim
4.25" x 3.0" Beveled Photo Acrylic with 4 Trim Matching Phillips Head Screws
Name Plates Include Missionary Title, Name & Called To Serve Dates (Mo/Yr - Mo/Yr)
Mission Name, Map* & Scripture, Hymn Verse, Quote or Mission Motto (400 character limit)
*Maps (International Missions - Country & Star on Mission City) (Domestic - State Map & Star on City)
Information Required:
Missionary Name, Called To Serve Dates (Mo/Yr - Mo/Yr), Mission Name, Favorite Scripture, Hymn Verse, Quote or Mission Motto (400 character limit)
General turn around time for a custom made plaque is 7-10 business days. All plaque orders are shipped USPS Priority Mail Shipping with confirmation/tracking number 2-3 business days. Additional Shipping fees will apply to any International Orders. Rush Orders are available for a $15 Rush Fee.