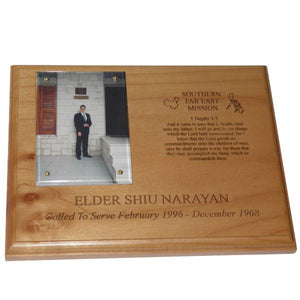 Alder Plaque (Available for domestic U.S. only)
Regular price $52.00 Sale
7" x 9" Alder Missionary Plaque 
4.25" x 3.0" Beveled Photo Acrylic with 4 Gold Phillips Head Screws
This Alder missionary plaque has the wording directly laser engraved into the wood giving it a rich customized look. The wording includes the Missionary Title, Name & Called To Serve Dates (Mo/Yr - Mo/Yr)
Mission Name, Map* & Scripture, Hymn Verse, Quote or Mission Motto (400 character limit)
*Maps (International Missions - Country & Star on Mission City) (Domestic - State Map & Star on City)
Information Required:
Missionary Name, Called To Serve Dates (Mo/Yr - Mo/Yr), Mission Name, Favorite Scripture, Hymn Verse, Quote or Mission Motto (400 character limit)
General turnaround time for a custom made plaque is 7-10 business days. This product is available only within the domestic U.S. and is not sold internationally . Rush Orders are available upon request and a $15 Rush Fee will be assessed.